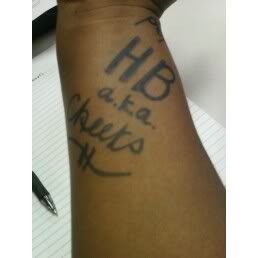 Folks, it seems that I've been marked. See, it all started when a certain someone came to bring me my hoodie.. She was 20 minutes LATE and was seriously taking away from my nap. I mean, I planned on being back awake before the sun went down. People just be fucking with your plans! I slept till 8 yall! I told her to write on me and she kinda went loco. She tends to do that. It says "Property of HB aka Cheeks"... she jus tryna let these hoes know ;)
She told me I was "hott" today. Meaning, in so many words that I've got involved with alotta people since her and I 'broke up'. Its a defense mechanism yall. I casually date.. and I do mean casual. Aint nobody the HB in my eyes and that'll be true for a minute. I'm fine with that. I told her today that I got girlfriends for days but she was my wife... I got a stank face. LOL
Ok, I don't feel like attacking the whole Gender Part 2 tonight.. Yall understand, but I promise I will this week.
Lets talk about my 'date' of sorts Friday... It wasn't really that much pressure, but I failed to mention that it was a white boy. We made a run to the liquor store and to Kroger to pick up some items for dinner... yall shoulda seen the looks we got. The sistas was looking at me like "you go girl" the white boys were looking surprised.. like they wanted them a sista too but didn't know that it was allowed. LOL, the brothas either looked mad at me or tried to flirt with me extra hard.... Want a black man? Get you a white one.. they'll try to get you back on the other side... It was interesting. Made me really think about what if I married a white man.. would I get tired of the looks? Things are getting better but I mean, there are still Barbarians.. the same mofos who was tryna conquer Rome.. (Sorry.. been knee high in my history book ) Anywho, idk yall I want my kids to have a black daddy... but then again, I had one and it didn't do me any good... So.... Hmmm...
My (male) cousin isn't happy about me 'dating' a white boy. He be alright tho. He likes white girls... I tell him every chance I get to get him a black girl... LOL Ahhh... some stuff just doesn't die does it?
Yall, I'mma stop talking about Trey's album one day... I just LOVE it. I need a hardcopy... I might fuck around and buy this and I aint bought music since 8 tracks.. lol. Yall need to listen to "Yo Side of the Bed"... Its the type of song that will have you crying and you aint even going thru nothin! He's talking about how his woman done got up and left and he can't sleep without her. Its lonley on her side of the bed.. He's hugging her pillow and shit... Shewt, I'mma sing this to someone besides my roomate one day. LOL, Its very Prince. Love it. The guitar solo? Sheesh!
Yall, my back is hurtin in the middle... I mean, like I been fucked real good.. and I have NOT! UGH! I don't mind a little back pain in the name of love ;) Someone need to come do they job... you kno who u r..
Just a lil random blogging for yall... whatever's on my mind...
I'mma Buffalo Soldier... Dread-Locked RASTA!!!!!!!!!!
Song of the Day:. "Yo Side of the Bed" -Trey
-C